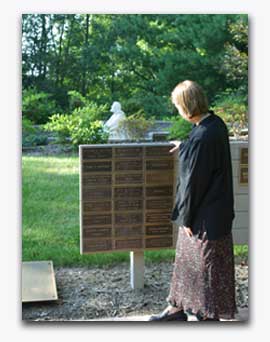 Located at the start of the Way of the Cross, the AGONY GARDEN is a beautifully landscaped place for prayer and reflection.  The large marble statue of Jesus portrays His Agony in the Garden on the night of His Passion – a solemn reminder that He suffered and died for us.  This site also serves to remind us that Jesus is with us during our own times of suffering.
The nearly 4,000 Oblate priests and brothers throughout the world will pray for all those memorialized at the National Shrine of Our Lady of the Snows. Also, over one million pilgrims to the Shrine a year will be asked to pray for those remembered by your Memorial.
Call us today at 1-888-330-6264 (Monday through Thursday, 8:00 a.m.- 4:30 p.m. Central time) to request a Memorial.