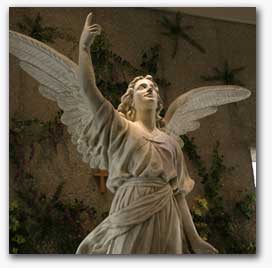 The ANGEL OF HEALING AND HOPE statue, located in the gathering space at the Church of Our Lady of the Snows, is a special place of honor for those affected by cancer, including those who have died from cancer, cancer survivors, cancer patients, family members of cancer patients, and caregivers.  The Angel of Healing and Hope is a powerful symbol of God's healing love, and the incredible inner strength shown by those who have been affected in some way by cancer.
The nearly 4,000 Oblate priests and brothers throughout the world will pray for all those memorialized at the National Shrine of Our Lady of the Snows. Also, over one million pilgrims to the Shrine a year will be asked to pray for those remembered by your Memorial.
Call us today at 1-888-330-6264 (Monday through Thursday, 8:00 a.m.- 4:30 p.m. Central time) to request a Memorial.