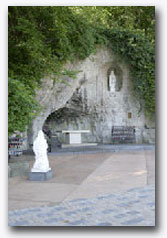 The LOURDES GROTTO, one of the first devotional sites built at the Shrine of Our Lady of the Snows, is a replica of the renowned Sacred Grotto in Lourdes, France.  Landscaped flower gardens, shrubs and trees blend with the surrounding wooded areas to enhance the beauty of this site and its Memorial area.  The Lourdes Grotto is one of the most frequently visited sites at the Shrine.
Nearly 4,000 Oblate priests and brothers throughout the world will pray for all those memorialized at the National Shrine of Our Lady of the Snows. Also, over one million pilgrims to the Shrine a year will be asked to pray for those remembered by your Memorial.
Memorials
Call us today at 1-888-330-6264 (Monday through Thursday, 8:00 a.m.- 4:30 p.m. Central time) to request a Memorial.