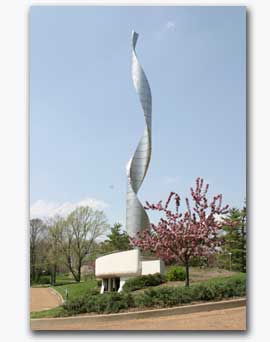 The MILLENNIUM SPIRE is located on a hill overlooking the Outdoor Amphitheatre.  The graceful 85-foot stainless steel structure symbolically sends the prayers and intentions of Shrine visitors and donors up to God. Thousands of lit votive candles are located in a Candelarium at the base of the Spire. The Spire is visible for miles around the Shrine, reflecting the light of the sun by day and the light of these thousands of votive candles at night.
Stainless steel Memorials are located on a wall at the Spire site, and granite and brick Memorials are placed on the walkway surrounding its base.
The nearly 4,000 Oblate priests and brothers throughout the world will pray for all those memorialized at the National Shrine of Our Lady of the Snows. Also, over one million pilgrims to the Shrine a year will be asked to pray for those remembered by your Memorial.
Call us today at 1-888-330-6264 (Monday through Thursday, 8:00 a.m.- 4:30 p.m. Central time) to request a Memorial.