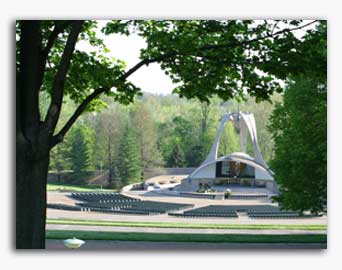 The OUTDOOR AMPHITHEATRE is truly the heart of the Shrine.  Nestled in a gentle valley, the Amphitheatre can accommodate thousands of worshippers either in its seating area or on the grassy slopes of the surrounding hillside.
Rising above the altar is a concrete letter "M" that stands for Mary, Mother of Jesus and Patroness of the Shrine.  Within the apex are three circles representing God the Father, Son and Holy Spirit.  A sixteen-foot statue of Our Lady of the Snows, presenting the Christ Child to the world, rises majestically behind the altar.
Memorials at the Outdoor Amphitheatre are displayed on the outside wall of the Outdoor Altar.
The nearly 4,000 Oblate priests and brothers throughout the world will pray for all those memorialized at the National Shrine of Our Lady of the Snows. Also, over one million pilgrims to the Shrine a year will be asked to pray for those remembered by your Memorial.
Call us today at 1-888-330-6264 (Monday through Thursday, 8:00 a.m.- 4:30 p.m. Central time) to request a Memorial.