Almighty God, You bring people of all nations together to praise Your name. Make us willing and able to do what You ask of us today. Help us to work together to make Your Kingdom a reality in the world. Amen.
Matthew 6:19-23
Jesus said to his disciples:
"Do not store up for yourselves treasures on earth,
where moth and decay destroy, and thieves break in and steal.
But store up treasures in heaven,
where neither moth nor decay destroys, nor thieves break in and steal.
For where your treasure is, there also will your heart be.
"The lamp of the body is the eye.
If your eye is sound, your whole body will be filled with light;
but if your eye is bad, your whole body will be in darkness.
And if the light in you is darkness, how great will the darkness be."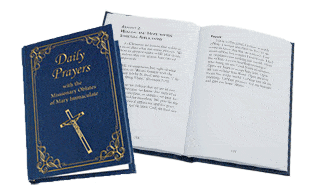 Daily Prayer
Hardcover Book
The Missionary Oblates of Mary Immaculate are committed to helping you grow in your relationship with God. Prayer is central to what the Missionary Oblates do and we desire that prayer be a priority in your life. As a person of faith, reading scripture and praying daily is essential to knowing God and His plan for our lives.
Would you like to gain a deeper understanding and relationship with God?
We encourage you to consider getting the physical, hardcover book of Daily Prayers with the Missionary Oblates of Mary Immaculate.
Your prayer life will be strengthened and you will be blessed and encouraged through prayers for every day of the year. This Daily Prayers book includes prayers for holidays, religious feasts and traditional Catholic prayers. It is an excellent compliment to the daily prayers you receive in your email each day.