February 2018
Febrero de 2018
Desplácese hacia abajo en los artículos de la versión en español.
Inside
From the Provincial Fr. Louis Studer, O. M. I.
Taking Missionary Life to the Extremes
An Anchor in Alaska Fr. Tom Killeen, O.M.I. Nominated Citizen of the Year
Oblates Minister to War Refugees in Cameroon
Celebrating the 50th Jubilee Year in India
Oblate Galilee Farm Helps Rural Poor in the Philippines
Father Johan Finney, O.M.I. shares photos from his mission station in Bangledesh
Oblate Jubilarian – Fr. Sherman Wall, O.M.I. 60 Years of Priesthood
Newest Cardinal is Part of Oblate Family
Oblates Preserving Hmong Culture in Minnesota
Donor Highlight – Sally Gomez-Jung
Finding Happiness Among the Oblates

Newest Cardinal is Part of Oblate Family
Technically, Cardinal Louis-Marie Ling Mangkhanekhoun of Laos is not a Missionary Oblate. In reality, he has been part of the Oblate family since birth.
"Since my Baptism there has always been an Oblate in my life," said Cardinal Ling. "I have been formed by them. My inheritance of spirituality and the spirit of service comes from them."
On May 21, 2017 Pope Francis named the little known bishop from Laos as a Cardinal. At the time Cardinal Ling was serving as the Apostolic Vicar of Pakse and Apostolic Administrator of Vientiane. He became the first cardinal ever from Laos, a Communist country where Catholics have been persecuted for generations. There are only about 45,000 Catholics in the entire country, and there are no dioceses. To have the Pope name a Laotian cardinal surprised everyone, especially the recipient of the honor.
"Somebody called me to the phone and said 'congratulations Bishop, you have been chosen a cardinal by the Pope!' I said, 'I don't believe you.' I thought he was teasing me. However, immediately after that first call there were many other calls and then I thought maybe it is true. Then I checked the internet to see if that was really me and there I found my name."
Cardinal Ling was born in Bonha-Louang, Laos in 1944. He was baptized and educated by Oblate priests from France. His mother was a convert to Catholicism and the family was very poor.
"I remember that I was never able to pay my school fees," said Cardinal Ling. "Therefore the Oblates who were my parish priests took care of that. I learned from them that spreading of the Gospel is not just by words. It is the testimony of your own life. These Oblate missionaries were very good examples of that. I asked myself always 'why did they do all these things?' But after some time I told myself something else, 'You do the same.' What the Oblate missionaries did for me was to put into my head the conviction that I must be at the service of the people."
Cardinal Ling studied for the priesthood at a seminary founded by the Oblates in the city of Parksane. As the war in Vietnam escalated and spilled into Laos, Catholics became targets of the Communists. Six Oblates would be killed by the Communists, including the parish priest who inspired Cardinal Ling as a boy. The young seminarian was sent to Canada to study at the Voluntas Dei, an institute founded by another Oblate, Fr. Louis-Marie Parent, O.M.I. Eventually, he would be ordained a priest in the Voluntas Dei community.
In 1970, Cardinal Ling was back in Laos as a Deacon and was asked to preach a retreat in a village called Ban Na Phong. He was joined by two catechists, Luc Sy and Misam Pho Inpeng. After the retreat was completed, Cardinal Ling experienced the most horrific and important moment of his life.
"The three of us went together and accomplished our mission. We spent one night there and the next day we wanted to go back to Vang Vieng. There was no transport so we got into a military truck. It was not far from the village where we stayed, maybe just two kilometers away when we were ambushed. There were about 14 people in the truck, and seven or eight got killed. Luc Sy and Misan died on the spot."
"I somehow escaped to the village and then came back looking for my friends. They were then buried beside the road without even a coffin, under the instructions of the military, although we wanted to bury them in the village. Then I had another challenge – to tell this sad news to their families. It was really a difficult task, I will never forget that incident."
"It was actually that incident that changed me. At that moment when I was alone with myself in hiding, but still surrounded by the gunmen, something clicked inside my heart. Why had I survived? I started to reflect. God made me realize that He wanted me to serve His people in a special manner. I said to myself, 'From now on, I will be a priest.' I was so sure that God called me to be a priest. How interesting that the decision came as a result of the most terrifying moment of my life."
Two years later, Cardinal Ling was ordained in a hurried ceremony at a refugee camp. He then ministered as a priest always under the careful watch, and many times being harassed by the Communists. In 1984, the Communists had enough of the priest of the poor and sent him to a re-education camp. For more than three years Cardinal Ling was forced to do hard labor.
After his release, Cardinal Ling continued his priestly ministry. In 2001 he was appointed to lead the Vicariate of Pakse. He would continue to be given more leadership roles among the Catholic Church in Laos. Today, even as a Cardinal, he is still part of the Oblate family as he helps to oversee a small team of Oblates who work in a dozen parishes or mission stations among the poor
"I tell the Oblates to be an Oblate. Go to the peripheries. That is your identity. That is why I say an Oblate should be an Oblate," said Cardinal Ling. "Why did the Pope choose me? Maybe because he insists on the missionary dimension of the Church. Pope Francis and I want to see the Church in the peripheries, a Church of the poor, a Church that is missionary."
El Cardenal más Reciente es Parte de la Familia Oblata
Técnicamente, el Cardenal Louis-Marie Ling Mangkhanekhoun de Laos no es un Misionero Oblato. En la realidad, ha sido parte de la familia Oblata desde que nació.
"Siempre, desde mi bautismo, ha habido un Oblato en mi vida," dijo el Cardenal Ling. "Ellos me formaron y mi herencia espiritual y espíritu de servicio proviene de ellos."
El 21 de mayo de 2017 el Papa Francisco nombró Cardenal al poco conocido obispo de Laos. En ese entonces el Cardenal Ling era Vicario Apostólico de Pakse y Administrador Apostólico de Vientiane. Fue el primer cardenal de Laos, país comunista, donde los católicos han sido perseguidos por generaciones. Solo hay cerca de 45,000 católicos en todo el país y no hay diócesis. El nombramiento del Papa de un Cardenal laosiano sorprendió a todos, en especial a quien recibió el honor.
"Alguien me llamó por teléfono diciendo 'felicitaciones, Obispo, ¡el Papa lo eligió Cardenal! Y contesté 'no le creo.' Creí que se trataba de una broma. Sin embargo, inmediatamente después de la primera llamada hubo muchas otras y pensé que tal vez era verdad. Después chequé en internet si se trababa de mí y encontré mi nombre".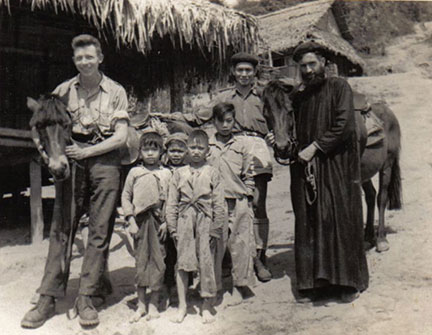 El Cardenal Ling nació en Bonha-Louang, Laos en 1944. Fue bautizado y educado por sacerdotes Oblatos franceses. Su madre se convirtió al catolicismo y la familia era muy pobre.
"Recuerdo que nunca me fue posible pagar mi colegiatura," comentó el Cardenal Ling. "Así que los Oblatos, que eran mis párrocos, se hacían encargaban de ello. Aprendí de ellos que llevar el Evangelio no se trata solo de palabras, sino del testimonio de nuestra propia vida. Los misioneros Oblatos eran muy buenos, ejemplos de ello. Siempre me preguntaba '¿por qué hacían todas esas cosas?' Pero después de algún tiempo me dije algo más, 'haz tú lo mismo.' Lo que los misioneros Oblatos hicieron fue darme la convicción de que debo servir a la gente".
El Cardenal Ling estudió para el sacerdocio en un seminario que fundaron los Oblatos en la ciudad de Parksane. Al incrementarse la guerra en Vietnam y llegar a Laos, los católicos fueron el objetivo de los comunistas, asesinando a seis Oblatos, incluso al párroco que inspiró al Cardenal Ling cuando niño. El joven seminarista fue enviado a Canadá para estudiar en el Voluntas Dei, un instituto fundado por otro Oblato, el P. Louis-Marie Parent, O.M.I. Más adelante fue ordenado sacerdote en la comunidad de Voluntas Dei.
En 1970 el Cardenal Ling se encontraba de nuevo en Laos como Diácono y le solicitaron predicar un retiro en una aldea llamada Ban Na Phong. Con él estaban dos catequistas, Luc Sy y Misam Pho Inpeng. Al terminar el retiro, el Cardenal Ling experimentó el momento más terrorífico e importante de su vida.
"Los tres fuimos juntos y terminamos nuestra misión. Pasamos la noche en el lugar y al día siguiente queríamos regresar a Vang Vieng. No había transporte, por lo que subimos a un camión militar. No lejos de la aldea donde habíamos permanecido, tal vez a solo dos kilómetros, fuimos emboscados. Había cerca de 14 personas en el camión y siete u ocho fueron asesinados. Luc Sy and Misan murieron en el lugar."
"De alguna forma escapé a la aldea y volví después a buscar a mis amigos. Fueron enterrados al lado del camino sin ataúd, por instrucciones de los militares, aunque deseábamos sepultarlos en la aldea. Tuve otro momento difícil – darles las tristes noticias a sus familias, algo realmente difícil. Nunca olvidaré lo que sucedió".
"Fue en realidad ese incidente lo que me cambió. En ese momento en que estaba ocultándome solo, aunque aún rodeado de los hombres armados, algo embonó en mi corazón. ¿Por qué sobreviví? Comencé a reflexionar. Dios me hizo ver que quería que sirviera a su pueblo en una forma especial. Me dije, 'A partir de hoy seré sacerdote.' Tuve la certeza de que Dios me llamaba a ser sacerdote. Es muy interesante que la decisión fuera el resultado del momento más terrible de mi vida."
Dos años después, el Cardenal Ling fue ordenado en una apresurada ceremonia en un campo de refugiados. Después trabajó como sacerdote, siempre bajo una cuidadosa vigilancia y muchas veces acosado por los comunistas. En 1984 los comunistas se cansaron del sacerdote de los pobres y lo enviaron a un campo de re-educación. El Cardenal Ling pasó tres años en trabajos forzados.
Después de su liberación, el Cardenal Ling retomó su ministerio como sacerdote. En 2001 fue nombrado para dirigir el Vicariato de Pakse y le serían encomendados más puestos de liderazgo en la Iglesia católica de Laos. Actualmente, incluso como Cardenal, sigue siendo parte de la familia Oblata, ayudando a supervisar a un pequeño grupo de Oblatos que trabajan en una docena de parroquias o estaciones de misión con los pobres."Les digo a los Oblatos que sean Oblatos. Vayan a los suburbios. Esa es su identidad. Es por ello que digo que un Oblato debe ser un Oblato," dijo el Cardenal Ling. "¿Por qué me eligió el Papa? Tal vez porque insiste en la dimensión misionera de la Iglesia. El Papa Francisco y yo deseamos ver a la Iglesia en los suburbios, una Iglesia de los pobres, una Iglesia que sea misionera."